Safe to say that as a nation, we love a summer barbecue. As the weather improves we spend more time outside in the sunshine and we can fire up the grill for a tasty treat. Tucking into a succulent burger or a chicken drumstick, under the shade of an awning or in the garden with the grass between your toes captures the taste of summer.
So what better way to enjoy this than to host a Barbecue party with some friends and family to savor the precious summer rays?
First things first…
Plan the day for the party and decide if it'll be a small get-together or a full blown bash with all your friends, family, colleagues and neighbours. Next decide on the date, probably the best days would be Friday, Saturday or Su
nday as your guests are more likely be available. The time the party is held should reflect your guests, so 11-4 if your guests will be bringing children or 6-11 if its grown-ups only.
After you've written your guest list, decide on how you will invite your guests. One option would be to call or text your guests individually or create a Facebook event as you can interact with your guests over the details of the party. But if you want to make it a bit special send out paper invitations. Whatever your choice, make sure to include details of date and time and your address in case some guests don't know where you live. State whether or not you expect guests to bring their own drinks or side dishes as you don't want to be surrounded by hundreds of bowls of salad! Remember to include instructions on how to RSVP and ask if anybody has any dietary requirements e.g. vegetarian or nut-allergy.
For a successful party you will probably make several trips to the shops to make sure you have everything! To keep things organised write a shopping list. Plan your list out into categories: meats, breads, vegetables, drinks, snacks, sauces, puddings, decorations, tableware… and decide when and where you will buy each category, as you will need to buy the more perishable items as late as possible. Don't forget essentials such as foil and kitchen roll!
If this is your first ever barbecue and you need to buy yourself a cooker, research online to find one that best fits your needs.
The day before…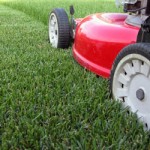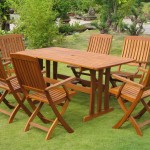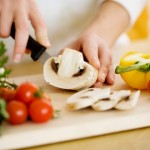 Make sure that your barbecue is in good working order before the party. Give it a good scrub with a grill brush as you don't want to taste last year's sausages! Make sure that you have enough fuel be it charcoal or propane gas.
Give your garden a quick manicure so that it looks its best; mow the grass, pick out any weeds and clear your cooking space from any hazards such as ornaments or toys.
Exhume your garden furniture from the back of your shed and set up any tables or chairs and decorate. Hang bunting and lights to add an extra sparkle to your garden.
Prepare as much food as possible in advance to save time and store in the fridge. Seal any salads or sides in plastic containers, wrap any grilling vegetables in foil and marinade any meat.
The big day…
Add to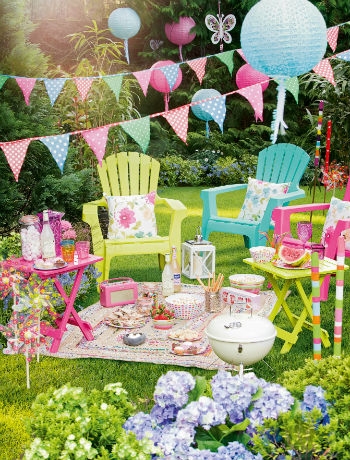 your decorations by dressing tables with colourful tablecloths and lay the table with bright tableware. Set out plates, cups and cutlery with sauces and condiments. Don't set out your food too early or it will spoil and you don't want to attract any bugs or animals. Fill a plastic cooler with ice and place any bottles or cans to keep cool.
Create a party atmosphere by setting up speakers to play music, make a playlist of all your favourite songs. For more entertainment set up a few garden games such as a ring toss or giant Jenga. For the kids you could set up a paddling pool or hand out party bags but during the midday sun make sure to apply sun cream. If your house has an awning, your guests can shade themselves from the sun while still remaining as a part of the party.
If using a charcoal grill leave enough time for the lit coals to reach the right cooking temperature, so at least half an hour before your guests are due. Have plenty of tin foil covered plates at hand to leave meat to rest after grilling.
As the first guest arrive bring out all of the cold food and lay it out across any tables and take the uncooked meat covered with foil and leave in easy reach of the barbecue. This will allow the meat to reach room temperature and it won't burn on the outside while leaving the middle uncooked. Your guests can now help themselves to drink and can nibble on the cold snacks before the big event.
Hail to the Chef…
Here are a few tips on cooking with your Barbecue:
♦ Oil the meat not the grill as it stops any sticking.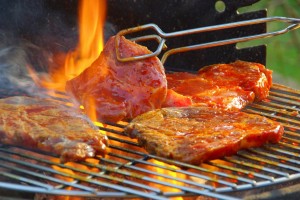 ♦ Only flip once or twice or lose all of the juices.
♦ For extra flavour chuck some herbs directly onto charcoal.
♦ Don't let fat drip onto the charcoal; flames will give your food a burnt taste, move away.
♦ Soak wooden skewers in water for 30 minutes so they won't burn.
♦ When cooking with the lid closed, avoid opening the lid before cooking time is over as you lose heat, cooking will take longer.
When cooking with the lid closed, avoid opening the lid before cooking time is over as you lose heat, cooking will take longer.Give your guests a few minutes of warning before the food is ready and dish it out in stages to avoid a rush. Kids first, then the grownups and the chef after – sorry!
Tidying up…
If you've used disposable plates and cups you've saved yourself a lot of bother. Have a rubbish bin in the garden and you're guests will practically clean up after themselves (well, almost!).
*****
With bellies full and the party in motion, you might be feeling a bit tired but satisfied in knowing that you have had a successful barbecue. Having properly planned your party you have saved a lot of unnecessary stress and can now relax and enjoy the summer sunshine.