Garden blinds are a way of preventing UV damage through big windows that can damage furniture, fabrics and your skin. They allow you to keep out direct sunlight and also provide a stylish look in your conservatory, kitchen or living room. Browse our huge range of garden blinds for your home to pair with your house awning, and get in touch with us for more information.
Get In Touch
Save Yourself from Harmful UV Rays with Garden Blinds
Garden blinds help UV rays from flooding in and damaging your furniture. UV rays can cause long term damage to fabrics, wood and other prized possessions. By adding garden blinds to your home, you can protect your belongings from this unwanted damage. Choose custom garden blinds in your ideal fabric and colour to match your home and garden décor and save your stuff from the sun. Incorporate our garden blinds to create a sophisticated and charming décor with a look that compliments your patio awning and garden foliage. Our contemporary garden blinds provide you with optimal shade from the sun and easily fit into place for any window.
Control Sunshine with Garden Blinds
Order Your Free Motorised Awning Brochure
If you're thinking of purchasing a garden shade canopy or would just like to look through some options for inspiration, our free brochure outlines our unparalleled range of awnings and canopies, including the unique customisation options available with each of them. In addition to the material design, frame colour and model type, we offer additional options such as lighting and heating so you can achieve the best outcome from your garden canopy UK.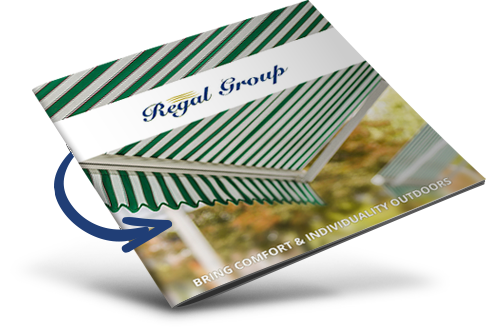 Control Sunshine with Garden Blinds
Make use of your home in the best way possible with our garden blinds that help you to control the amount of sunshine that gets into your home. With Regal Awnings, you can enjoy a seamless transition between your garden blinds and your door. Having large areas of glass is great for seeing out into your lovely garden, but not for draughts or unwanted direct sunlight. Choose from vertical or horizontal blinds for your garden to match your home décor.
Patio doors are a great addition to any home by creating an indoor-outdoor feeling and making rooms feel lighter and bigger. Whether you have big sliding doors, flexible opening options, slimmer doors or large windows, we have the perfect garden blinds for you.
Our range of garden blinds are a smart and stylish choice for large windows or doors in your conservatory, kitchen or living room. They open and close easily and are available in a range of different styles to suit your home. Choose from black out blinds, fabric blinds as well as vertical or horizontal blinds.