Motorised awnings are designed to provide shade and temperature control whilst making a stylish feature on your house. They're perfect for those who love to entertain family and friends outdoors and who need some extra shade in the summer months to keep cool. They are retractable which means you can pull them in when there's no need for them and easily pull them out when you need extra protection from the elements. Browse our range of motorised awnings now and get in touch with us so that we can discuss a solution for your requirements.
Get In Touch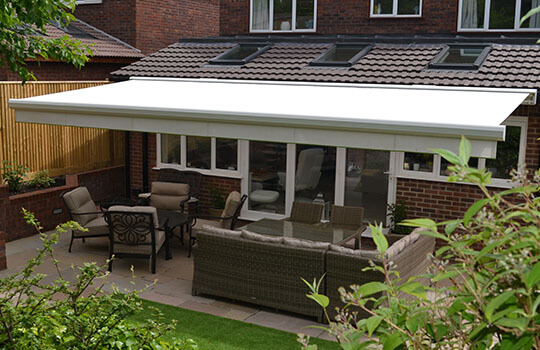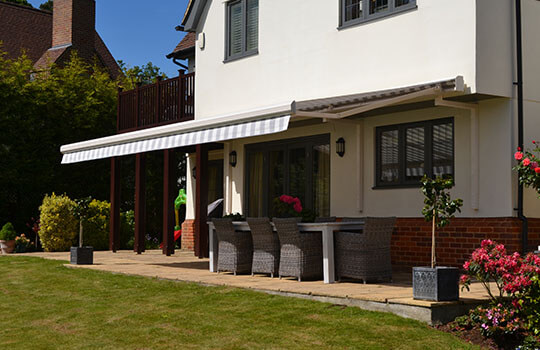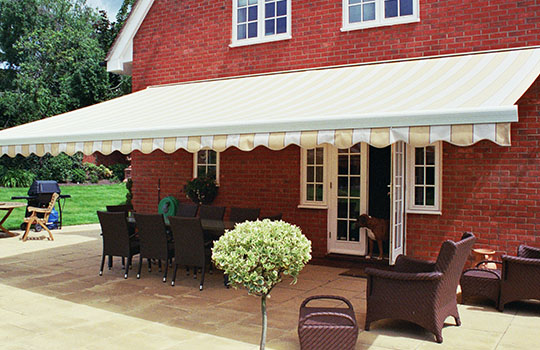 Design Your Motorised Awnings with Regal Group
Motorised awnings are designed to provide shade and temperature control whilst making a stylish addition to your house or business. At Regal Awnings, we provide high-quality motorised awnings to protect your immediate outside area come rain or shine. Motorised awnings add a luxury to your garden along with convenience meaning you can effortlessly open any size awning with ease.
Whatever space you might have, we can provide a custom fitted motorised awning for you. They're designed for all weathers, whether you're looking for a relaxing day in the shade on a hot day or you enjoy sitting out in the garden even when there's a bit of drizzle! Motorised awnings keep you dry in the rain and protected from sunburn and sunstroke in the summer. They're also perfect for protecting your garden furniture from sun, wind and rain. Motorised awnings are run by a built-in motor which is hidden by the awning itself and is operated by mechanical arms ensuring it works to the best of their ability.
We pride ourselves on providing a selection of high quality motorised awnings at the best prices to create an honest reputation. All our work is kept in house to help maintain quality standards and don't rely on any third parties to help deliver your motorised awnings.
Order Your Free Motorised Awning Brochure
If you're thinking of purchasing a garden shade canopy or would just like to look through some options for inspiration, our free brochure outlines our unparalleled range of awnings and canopies, including the unique customisation options available with each of them. In addition to the material design, frame colour and model type, we offer additional options such as lighting and heating so you can achieve the best outcome from your garden canopy UK.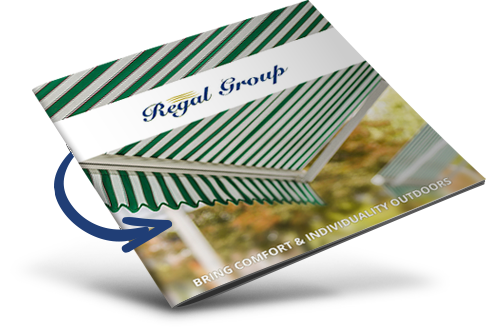 Discuss Your Electric Awning for Patios
Make the most out of your outdoor space with an electric awning for patios, gardens or balcony areas. There are a variety of different models and accessories to choose from to help you get your ideal finished product. Choose between a wide array beautiful fabrics and a huge selection of different designs and patterns. Each fabric contains a high tech finish to help protect against unpredictable weather conditions and to stand the test of time.
An electric awning for patios is a great way to control the sun and rainfall in any outdoor area. They're perfect for entertaining family and friends outside, or just to help you stay cool in the summer months when you need it the most. Different types of patio awnings are available based on the area you're looking to cover. You can create a full protective enclosure or smaller enclosures for less exposed areas which don't require the same level of protection. Each has their own unique design and features which can make them ideal for your space.
Motorised Awnings FAQs
How do electric awnings for patios work?
Motorised awnings work by motorised arms that either push or pill the awning smoothly and efficiently. You can control your motorised awning with the push of a button for ease and convenience. The motor powers the motorised awning which retract the arms. The arms are designed to move in a similar way to human joints to strongly hold everything in place. There are one or two chains connected to the arms to hold everything together.
Why choose Regal Awnings?
Regal Awnings have been creating custom made awnings for over 30 years with a team of dedicated experts that help to grow our unique business. Each member of our team helps to deliver bespoke, high-quality solutions for each and every customer whether they be commercial or residential. Our innovative solutions are hard to beat and you won't find them anywhere else. To maintain high standards, all our work is kept in house and we work with our own trusted fitters rather than relying on sub-contractors. We also offer an exclusive 2-10 year guarantee on each purchase so that you can be confident that your new electric awning for patios withstands the test of time.
For more information about our motorised awnings, don't hesitate to contact our team, today.
Call us on
0800 002 9904
and talk to one of our staff members today.
Get In Touch
or
Request A Brochure