Enjoy your garden come rain or shine with a patio awning that is made specifically for your home. With years of expertise in the industry, the Regal Group maintain their high standards at all times to ensure that our patio awnings are installed efficiently to result in a patio awning that you and your family can enjoy for many more years to come thanks to our 5 or 10 year guarantees.
A patio awning provides shelter which can be enjoyed across all months of the year, giving you and your guests a stylish space to spend time in. House awnings can be made to fit the unique needs of your property to fit in with the style and design of your home, providing you with the patio awning you've been dreaming of.
Get In Touch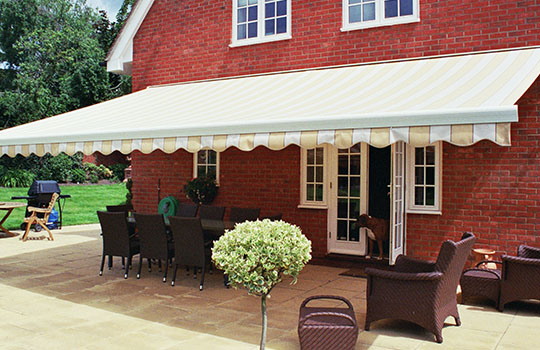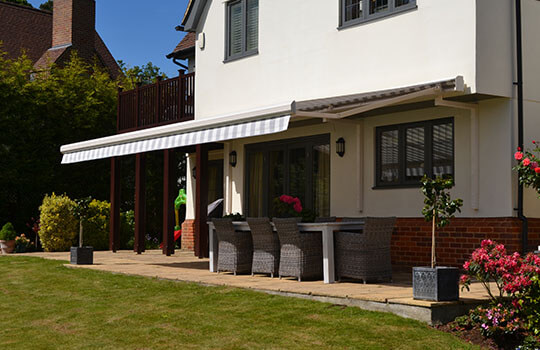 Professional Patio Awnings to Suit You
We all know that the UK weather can be unpredictable, so patio awnings make the perfect addition to your outdoor space. Don't let your plans get rained off and make weather worries a concern of the past with a patio awning to protect you from the elements whatever the season. Our house awnings are always designed with quality in mind, providing solutions that will stand the test of time and allowing you to enjoy your garden at any given opportunity.
Regal Awnings is the number one choice for patio awnings thanks to our professional service and huge range of options available to each and every customer. Every one of our patio awnings are uniquely made for your home and garden to guarantee the perfect fit every time. Regardless of the style of house awnings that you are looking for, we are on hand discuss your personal requirements to meet your specific needs. We are one of the few patio awning companies that offer a dedicated team of in-house fitters, this allows us to cause little disruption at your property and ensure that jobs are continuously completed to our high standard.
---
For A Professional Awning Installation Service, Regal Awnings Are Always On Hand To Help.
Maintaining Your Patio Awning
We ensure that all of the house awnings we provide are of the highest quality, created with durable materials to give them a long lifespan. To keep your patio awning looking brand new and to maintain its condition, it is as simple as regularly wiping it down with a damp cloth to keep it looking great for you and your guests.
We recommend that you wind in house awnings during harsh weather conditions and strong winds to reduce the risk of any damages from flying debris or wear and tear from the extreme weather.
Order Your Free Brochure to Discover Ideas for Your House Awnings
If you're looking for some inspiration for your new patio awning, take a look through our patio awnings brochure to see our range of awnings and the unique customisation options available with each of them. Choose the material design, frame colour and model type as well as any additional extras including lighting and heating to create the patio awning of your dreams.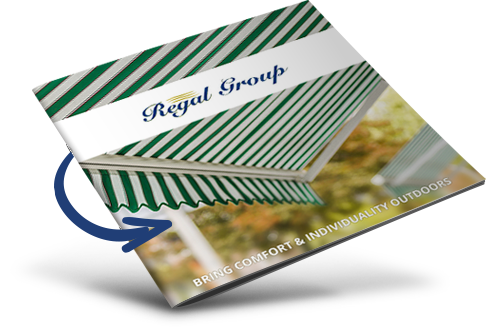 Design a Patio Awning to Enjoy All Year Round
When it comes to variety, you will be unlikely to find another patio awning specialist with as much experience as Regal Group. From fabric awnings to retractable and fixed house awnings, you are sure to find a solution to suit you. We pride ourselves on transparency and will always offer honest advice when it comes to choosing the right patio awning to match the aesthetic of your property, as well as helping to find a solution that suits your budget.
House awnings makes a great alternative to the costly and laborious process of building a conservatory or extension, allowing you to never miss an opportunity to make the most of the great outdoors with the worry of the British weather. A patio awning can truly transform your garden with a stylish solution that requires very little maintenance.
Here at Regal Awnings, we believe in not only providing our customers with tailor-made patio awnings, but also patio awnings that will stand the test of time. We offer a unique 5 or 10 year guarantee to ensure your peace of mind about the quality of our patio awnings. As well as this, we offer different payment methods, including our Interest Free Finance option for your ease. If you would like to find out more about our glass verandas, patio awnings and commercial awnings, get in touch with a member of our team today.
Get in touch and add a patio awning to your garden, today.
Call us on
0800 002 9904
and talk to one of our staff members today.
Get In Touch
or
Request A Brochure