As summer is just around the corner, now is the time to prepare your garden so that you can enjoy it fully during the sunshine. While you might spend a few hours tending to your flowers or mowing the lawn, your garden should also be used as a space for rest and relaxation.
Your garden can be used for so much more, during the warmer days you can sit outside to eat, catch up on some reading or have a quick snooze.
During the summer months, consider your garden to be an extension of your home. By adding a garden awning to your home you can create a new 'room' outside, as your awning can shade you from the sun or cover you from the summer drizzle. And what does any room in your house need to feel complete? Furniture of course!
With so many different styles, looks and materials to choose from, you are sure to find great pieces of furniture to upgrade your garden space.
We at Regal Awnings have compiled a guide for you on how to pick the best furniture for your garden!
Types of furniture
Time to decide, what will be the main use of your garden furniture. For entertaining or relaxing?
Dinning Sets // Sofa and Chair Sets // Picnic Tables // Benches

During the warm summer months your garden will be the ideal place to eat and entertain. Be it family tea time during the holidays or a dinner party with friends, you're sure to find something that fits your lifestyle. Different dinning sets can come in different sizes, and dependent on size can include 2 to 8 chairs. A picnic table can be fun for children as it's like being at the park. If you fancy a more laid back style, a chair set with table can be a more easy-going setting for serving drinks and snacks; as you can sit back and unwind.
Loungers // Swing Seats // Deck Chair // Hammock
If sitting out in the sun to relax is more your style, you need a comfortable place to sit (and comfortable enough to maybe catch a snooze!). A hammock is the ultimate destination for lounging and relaxing as you can drift off to sleep, feeling almost weightless. Adding a sun lounger or a deckchair to your garden could be like relaxing by the beach and a swing seat could be great place to relax with a loved one or a spot to snuggle up with your children.
Which material?
When considering which material you should choose for your garden furniture there are several factors you should think about such as maintenance, weight, cost and so on. So to make things a little easier we have listed a few details for each material to make your decision a little easier.
Wood
Hardwood: Eucalyptus, Teak, Oak
Softwood: Pine, Cedar, Redwood
Pros: Light, Customisable, Functional
Cons: Needs maintenance, can deteriorate over time
Wood can be a fantastic addition to your garden as it adds a rustic style and can be used throughout the summer. Many table and chair sets are foldable while remaining sturdy so you can easily move things around. Some types of wood can be left out in all the elements to create the desired 'weathered' look where the wood turns a silvery colour. Otherwise you should store your furniture during the winter and maintain it regularly. When the wood is dry you should stain or varnish it to keep everything in good condition.For an extra twist you can paint some types of wood in funky colours to add a little bit of character to your garden.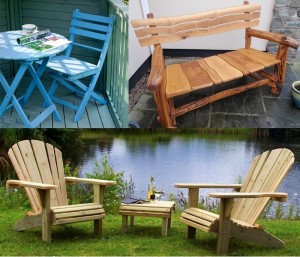 Aluminium
Pros: Light, durable, cheap, choice, low maintenance
Cons: Easily dented, rust
With so many types and styles of aluminium furniture, you can either buy single pieces or an entire dinning set. The hollow design of most aluminium tables and chairs means that they can be easily moved around the garden while adding a contemporary style. Even though it's durable, aluminium can be susceptible to dents and scratches if not looked after and can start to rust if left out in the rain. Plus, if the weatherman is promising high winds its best to keep aluminium furniture inside as it's so light, it might be blown away!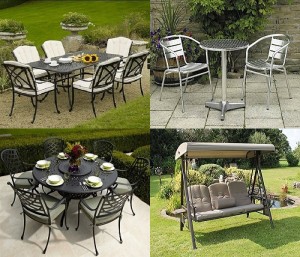 Wrought Iron
Pros: Durable, heavy duty, low maintenance
Cons: Heavy, bulky, expensive, rust
A stylish addition to your garden, wrought iron furniture can stand the test the test of time; with intricate patterns that can create a traditional look. It doesn't need much care or attention, just check for any signs of rust. On the practical side of things, as wrought iron can be heavy it would be best placed on your patio or on gravel. As the furniture would be so heavy it would be hard to manoeuver and if placed on grass would sink, leaving unsightly holes in your lawn…and you don't want that!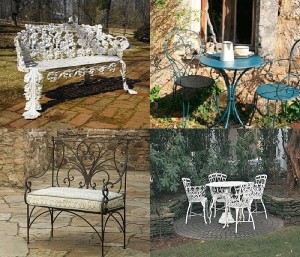 Rattan
Pros: Light, low maintenance, comfortable
Cons: Best stored indoors
A classic look for the summer, rattan furniture would be a great addition to your patio or garden. Either made from a natural or synthetic weave, rattan furniture is very light and can be easily moved around to suit your mood, either in the sun or under the shade of your awning. The nature of the weaved material makes it very comfortable to sit on, and many rattan sofas and seat sets include fitted cushions for added comfort. The only real negative would be that this material isn't weather-proof, so it is best kept indoors after summer use.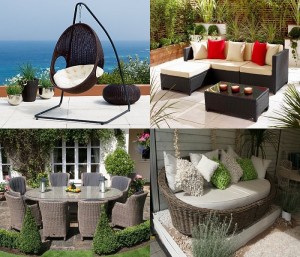 Where to buy?
Naturally, one question you will have when considering buying garden furniture is 'Where should I buy?', as the answer is not as easy as you think. As you can find great pieces of furniture just about anywhere these days, with a little bit of research you can find a happy medium between quality and price.
Garden Centres – The obvious choice perhaps, but there is still a choice between a local store that supplies exclusive products or a chain store that will have a vast range of different products.
Supermarkets – No longer a place you go to just do your food shopping! As the megastores have grown so have their products as they now stock a massive range of home and garden furniture. They might only have a few on display in-store but in most cases you can order online and it can be delivered into store the next day.
Charity Shops/Re-Use Organisations – Not only are you doing your bit for charity you're also looking after the environment. You're also bound to find a bargain!
Antique Shops – This could be a great investment for your garden as you're buying something of quality. Again you're helping the environment by re-using while also creating a vintage look for your garden.
Online / Classifieds – There is unlimited choice, new or used, on sites such as Gumtree and eBay. You can easily spend hours browsing the thousands of products on offer, and there's no greater feeling than winning a bid!
Local Carpenter / Iron Worker – If you want truly unique furniture for your garden get in touch with a local carpenter or iron worker. You may be paying a fair bit extra but you would be getting a quality piece of bespoke furniture while supporting local business.
We hope that you found this guide useful in helping you choose the right furniture for your garden, and that you'll be relaxing outside all summer long! Will you be spending more time in your garden and home this summer? If you need any exterior or interior design advice let us know in the comments!