Side awnings are a great way of creating privacy in your garden as well as creating shade in certain areas. They are perfect for indoor or outdoor use and are usually retractable so that you can use them as and when you need them. Side awnings by Regal Awnings are super high quality and versatile so that you can use them however you like; whether that's to keep out nosy neighbours or provide shade on summer days.
Get In Touch
Choose Regal Awnings for Your Side Awnings
Regal Awnings is an experienced team of professional and passionate employees who can give you bespoke solutions for your side awning needs. The team at Regal Awnings has over 30years' experience combined and each member of the team is brimming with knowledge and expertise to bring you innovative bespoke side awning solutions for your needs whether that be privacy in your garden, protection from sun and wind or a partition in your home or garden. All work to give you your side awning is kept in-house with our own trusted fitters that consistently provide great service and incredible quality.
Regal Awnings specialises inside awnings that are designed to suit the request of the customer. We always make sure we give you the highest quality bespoke side awnings at competitive prices. There are many sizes, styles and fabrics to match your garden and house décor. We create bespoke side awnings in your choice of fabric and colour to help give your garden or house a beautiful update that is multi-use and multi-functional.
Order Your Free Motorised Awning Brochure
If you're thinking of purchasing a garden shade canopy or would just like to look through some options for inspiration, our free brochure outlines our unparalleled range of garen and patio awnings and canopies, including the unique customisation options available with each of them. In addition to the material design, frame colour and model type, we offer additional options such as lighting and heating so you can achieve the best outcome from your garden canopy UK.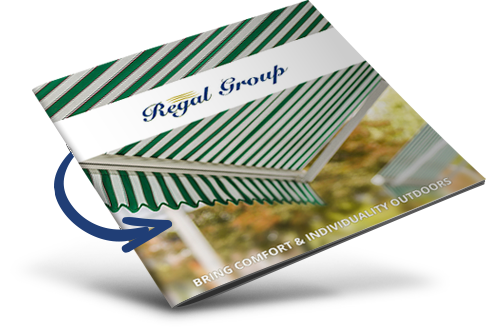 Maintaining Your Side Awnings
All our side awnings are designed with quality in mind, however, it's important you keep up the maintenance of your side awnings so that they last longer. First of all, you need to make sure you're regularly and thoroughly cleaning your awnings. Cleaning off any dirt and debris will prevent this from building up and causing damage. You should also regularly check for tears and weakening of the fabric so that they can be fixed and prevented. We can provide you with specific information on maintenance for your awning, simply get in touch with us or speak to us at the time of installation.
Buying a side awning can be a great investment. They can last you years and provide you with protection from the sun as well as give you extra privacy in your garden. Our awning installation is carried out by some of the best in the business and is designed with safety in mind. This means that you can be certain your safety is our top priority. Having one of our team install your side awning means that you have the opportunity to see the full process and allows you to ask us any questions that you may have about your awning. We like to make it a priority to ensure our customers receive the best experience, from selection to installation and aftercare!